Composting is nature's way of recycling. When organic material is broken down through decomposition, it becomes a natural fertilizer for soil. We use compost at East New York Farms! because it helps us produce healthier food, reduce chemical pollution, add nutrients to the soil, help reduce soil erosion, and divert biodegradable waste from going to a landfill. 25% of trash in the landfill could actually be composted.
Composting at East New York Farms!
East New York Farms! has been composting for over 15 years, as well as advocating for increased municipal composting and diversion of biodegradable waste. We collect food scraps year-round to process into nutrient-rich compost for farms and gardens in East New York to grow organic produce. On the UCC Youth Farm, there is a nine bin compost station used to process food scraps. The food scraps are collected from the UCC Youth Farm, Saturday ENY Farmers Market and Wednesday ENY Farm Stands visitors, market vendors, local residents, local businesses and through the East New York Compost Project.  The East New York Compost Project is an expansion of our community composting work to include food scraps collected at our two NYCHA farms, Pink Houses Community Farm and Bay View Houses Farm, and four farmers markets in the neighborhood.  In 2017, we collected 14,533 pounds of food scraps!
Every Saturday at the ENY Farmers Market, there is a Compost Station where customers can learn about all about composting and how they can get involved. One big way you can help is by bringing us your food scraps! You can bring it in a plastic bag or a reusable container, then empty it out into our bin at the farm or Farmers Market. Or, you can request a bucket from us and bring your scraps in this bucket as frequently as you would like. Giving us your vegetable scraps helps us produce more compost and more food for our community!
What

CAN

 be composted:
Fruit and vegetable scraps, coffee grounds and filters, tea bags, eggshells, nut shells, rice, bread, grains, leaves, houseplants, soil, dried flowers, soiled paper (e.g. napkins), biodegradable tableware
What

CAN'T

 be composted:
Meat, fish, or dairy products, fats, grease, or oil, ashes, animal waste
East New York Farms! hosts compost giveaways twice a year distributing compost supplied by DSNY. In 2017, a total of 7,200 40-pound bags of compost were distributed to local farmers, gardeners, and interested individuals.  Check back in for 2018 Compost Giveback Dates.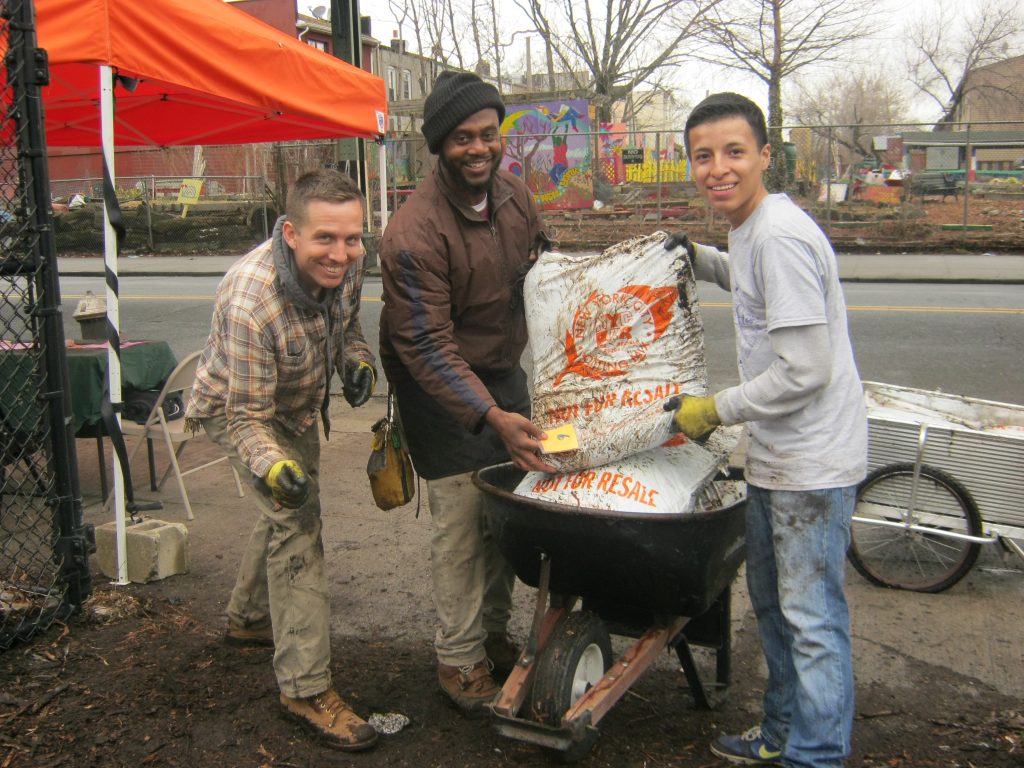 We host a variety of workshops on topics involving composting. Stay tuned for dates in 2018!
When the Youth Program and the Farmers Market are not taking place, we have Compost Tuesdays where we put bins outside of the UCC Youth Farm for people to drop off compost from 9 AM to 6 PM. We will expand the collection to other days and times as demand increases. In addition, food scraps can be dropped off at Pink Houses Community Farm and Bay View Houses Farm.  Below is an interactive map showing the Food Scrap Drop Off locations.
Here are some tips on how to be more environmentally friendly when you bring food scraps:
Use a reusable container: it is sturdy, won't leak, conceals scent, and reusable over and over again. On top of that, you won't be using plastic that will end up in the landfill. (examples: bucket with a lid, soup container, coffee can, mason jar, etc)
If you have to use plastic bags to hold food scraps, try to use plastic bags that are not reused otherwise. They are usually sturdier than plastic shopping bags anyways. (examples: chip bags, bread bags, cereal bags, weekly circular bags, etc)

When using plastic bags, there is no need to use bags over bags. If it is the odor or the slimy mess you are afraid of, just put it in your freezer and take it out when you're ready to bring it to us.
Sign up for our newsletter
Subscribe for the latest news and updates on our main page.
Get Involved
If you would like to volunteer.
Be sure to check out our partners who are also doing amazing compost work throughout New York City!