At MLE we aim to create a social learning environment that represents the diversity of our City, in which children learn to live with one another and begin to develop an understanding of themselves and of their world. We want our children and teachers to capitalize on all available knowledge about learning and growth and to connect teaching and learning meaningfully to the outside world. So when our pre-schoolers are learning about environmental science they are not only planting tomato seeds and watching them grow but also have an understanding where food come from, taking care of our surrounding, eating and developing confidence and pride of what they can accomplish.
We design exciting and cultural authentic learning environments, use standard-based instructional academic strategies and assessment tools. UCDCC teachers focus intensively on the child's individual needs while incorporating a balance of child-centered and teacher-directed instruction presented in a range of environments including large and small groups, dyads, and one-to-one teaching. This provides children with the tools they need to be ready to learn and be successful as they transition to the kindergarten environment.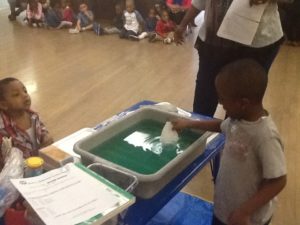 The MLE Learning center held a science fair, and students learned about buoyancy and the water cycle, among other things.
4 year old class - ½ day
Universal Prekindergarten/Early Learn Preschool
Sharmene Knight- Assistant Teacher
4 year old class - ½ day
Universal Prekindergarten/Early Learn Preschool
Esther Findley- Group Teacher
3 year old, Early Learn Preschool
Avis Sanderson- Group Teacher
Mary Dixon- Assistant Teacher
3 year old
Early Learn Preschool
Andrea Baker- Group Teacher
Joan Pomare- Teacher Aide
2 year old/Toddler
Early Learn Preschool
Inosencia Vicioso- Group Teacher
Chanelle Joseph-Assistant Teacher
Jennifer Gilbert- Teacher Aide
2 year old/Toddler
Early Learn Preschool
Maxine Knight- Group Teacher
Victor Indarjit- Assistant Teacher
Tomeka Bowers- Teacher Aide
4 year old
Free, Full day, 8:00am-2:20pm
Universal Prekindergarten
Bernadette Francois Germain- Group Teacher
Tanya Mercado- Assistant Teacher