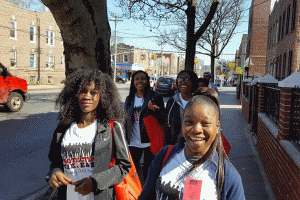 Who We Are
Protecting The East is a community health project of United Community Centers with an emphasis on HIV prevention and sexual Health.
What's the mission: TO create a environment in ENY in which young people are able to create safe and healthy relationships.
What We Do
Peer Education Internship: 6 months learning how to conduct outreach, develop communication and leadership skills and support our community health initiative
Offer workshops and activities around healthy relationships, sexual health education and HIV/STI prevention
Outreach and Venue Distribution
Distributing condoms and information to community members at events, businesses, health fairs, parks, subways and more.
Contact Deidre Miller at [email protected] for general information about Protecting The East, or to request a workshop.
We are a team of many talents. In addition to dabbling in spoken word and poetry, we are now actors and actresses! This week, Protecting The East performers went to Brownsville Multi-Service Family Health Center to put on a PTE original skit promoting HIV testing for World AIDS Day. Our short piece, "Got My Back",…
Read More