UCC's Response to Recent Executive Orders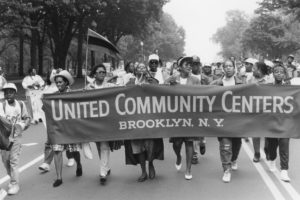 2017 has just begun and it seems much has changed. In light of the President's recent Executive Orders, and the legal battles to come regarding them, we wanted to share our thoughts with you, and remind all of our supporters and those we serve, that UCC has been here a long time and will continue to be here for many years to come.
UCC opens its doors to welcome the community and to work with them in creating a place for ALL of us. In response to our new President's agenda, policies, and executive orders, particularly those that exclude and stigmatize valued members of our community, UCC's commitment of inclusion and diversity has never been stronger. We value the richness of our differences and believe people of all nationalities, races, ethnicities, genders, religions, ages, and sexual orientations make East New York and all of this country a stronger, safer, and better place to live. In these uncertain, confusing, and unnerving times, no matter what this administration brings, we will stand strong. WE BELIEVE IN A COMMUNITY AND A COUNTRY FOR ALL OF US.