We operate 3 urban farms and one community garden.  The UCC Youth Farm, started in 2000, is a dynamic 1/2 acre site where 35 youth learn organic farming techniques and grow healthy, chemical-free food to sell at our Saturday and Wednesday farmers markets. They grow over 70 varieties of vegetables including cherry tomatoes, okra, long beans, cilantro, swiss chard, and bitter melon. We also manage two farms in NYCHA developments: the Pink Houses Community Farm and the Bay View Houses Farm.  Fresh Farm is our intergenerational community garden with a focus on market production.
Visit our Farms
The UCC Youth Farm hosts open volunteer days the 1st and 3rd Saturday of every month, March through October, from 10am to 2pm. To schedule an exclusive work day and tour for your group, contact [email protected]
Pink Houses Community Farm
The Pink Houses Community Farm is a partnership between Pink Houses Resident Green Committee and East New York Farms! providing fresh food for the community.
In 2017, over 30 distributions were held at Pink Houses Community Farm, distributing 3400 pounds of food to over 1000 residents. In addition, 250 pounds of food scraps were collected and turned into compost for the farm. Food scraps can be dropped off year-round in the gray bin by the entrance of the farm. 
For the latest news and updates on volunteer opportunities, produce distribution days, and special events, please visit Pink Houses Community Farm's Facebook Page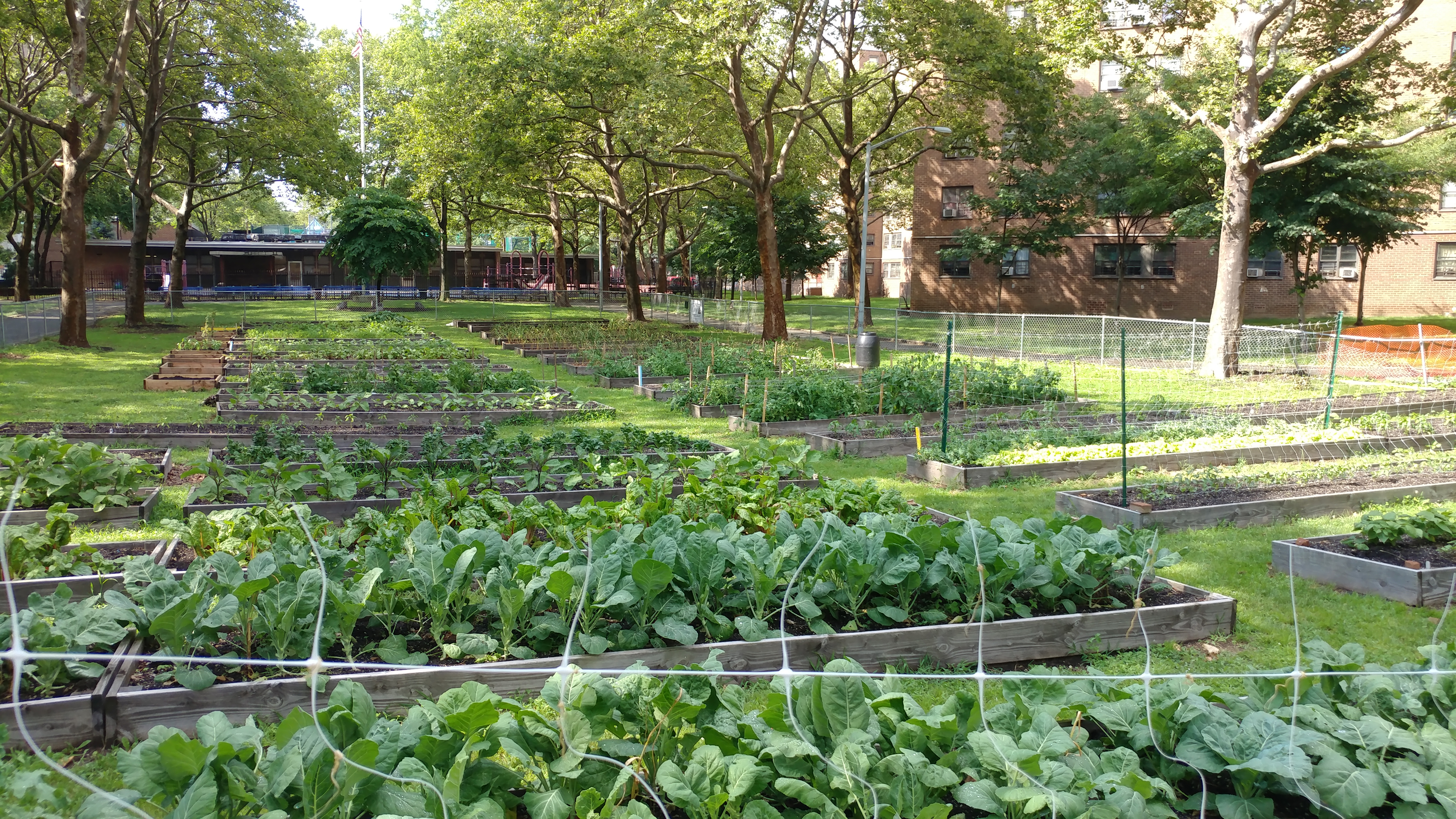 Bay View Houses Farm was founded under the Farms at NYCHA initiative, a part of Building Healthy Communities (BHC), a city-wide partnership designed to improve health outcomes in 12 neighborhoods in New York City. Green City Force AmeriCorps members operate and maintain the farm in partnership with East New York Farms! The farm aims to provide residents access to healthy food, farm education, and community space. From June until November, the produce grown on the farm is distributed to residents every Friday starting at 10 AM in exchange for food scraps or volunteer service. Food scraps are collected year-round to be turned into compost, it can be dropped off in the gray bin located by the east gate.
In 2017, 25 distributions were held at Bay View Houses Farm, distributing 5345 pounds of food to 768 residents. In addition, 1507 pounds of food scraps were collected.
For more information, email Anita at [email protected] or visit Green City Force's webpage